the flower letterS
mailing dates
We mail using the USPS mail system. We will process and mail your first letter within three business days of your order. After that we mail letters following the schedule below. Please allow up to 2 weeks from the mailing date for letters to arrive in the US, and 4 -6 weeks for international delivery. Oh and don't worry, we start everyone on the first letter so you don't miss out!
If you order a letter story today, the following will be your schedule for mailing -
Letter #1 mails within 1-3 business days
Letter #2 mails on
Remaining letters are mailed on the 2nd and 4th Friday of every month
Letters will be delivered within two weeks for US orders and within six weeks for international orders.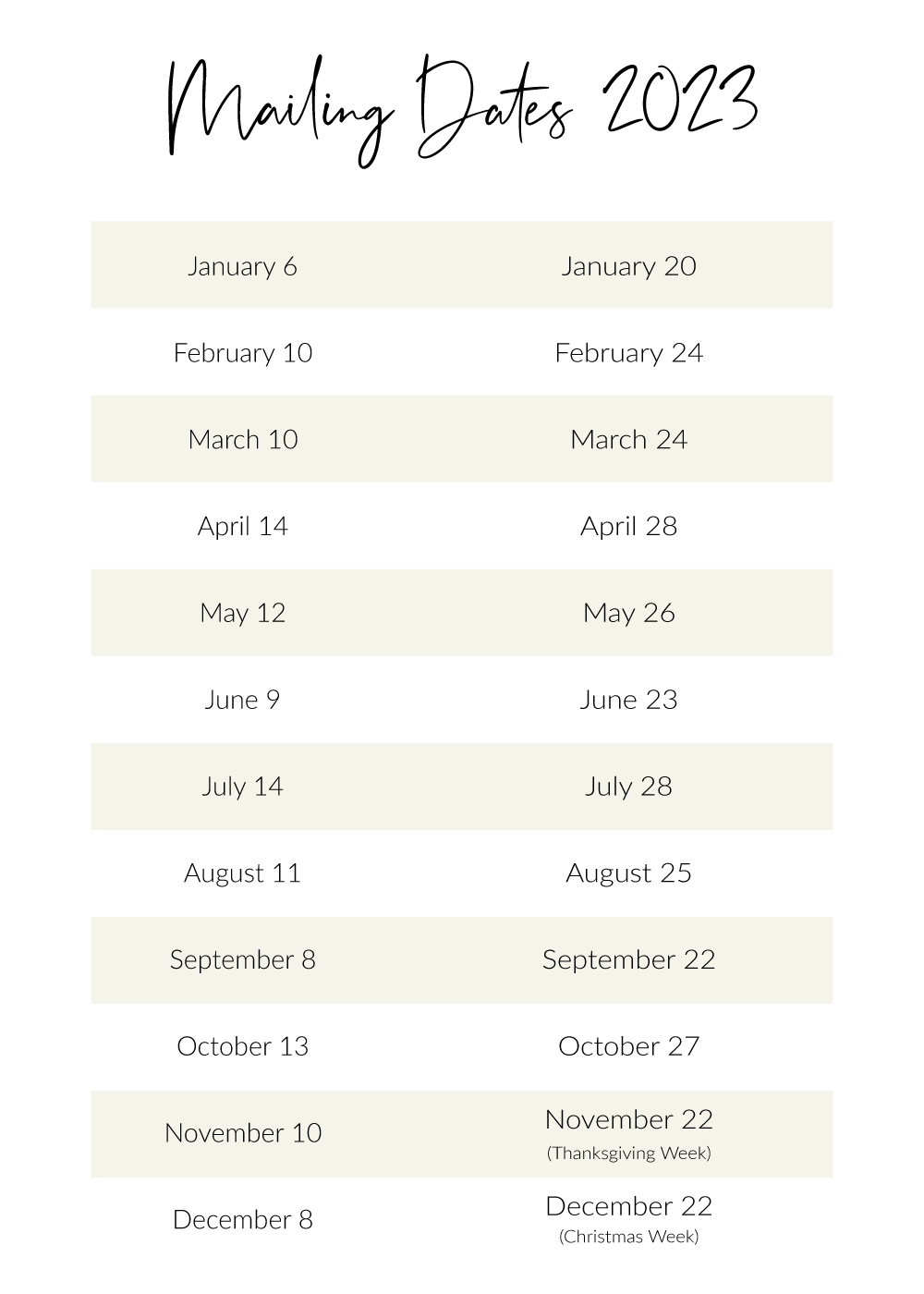 Why do you only mail twice a month?
When we founded The Flower Letters we knew each letter would require to be designed, folded and mailed with care. We hand stuff, stamp and mail each letter so when it arrives the presentation is up the standard we have set and work to maintain. As a result, each mailing takes time to ensure we have appropriate materials and people to help us with each mailing.
I haven't received my letter? When will it be mailed?
To ensure we have time and resources for each mailing we do have cutoff times of the 1st and the 15th of the month. If you order before the 15th, you will be part of the 2nd mailing of the month. If you order between the 15th and the end of the month - you will be part of the first mailing of the following month.
I am missing a letter - what do I do?
Contact us, after 4 week in the US or 6 weeks internationally we will resend the letters at no additional cost. Send an email to: support@theflowerletters.com and we will get it sent.
I typed the wrong address, or I am changing addresses - how do I make a change?
Send an email to support@theflowerletters.com to ensure we get the address updated. We also recommend always setting mail to forward to your new address.
Rats! I meant this as a gift, but I put my address instead! What do I do?
Email us support@theflowerletters.com - we'll update the address, and if you're not able to get the letter to your recipient we will resend the letter(s) to them so they can have an uninterrupted experience.
I live outside the US - how long does mail take to get to me?
Mail times outside the US vary. If you haven't received your letter after 6 weeks of the first mail date, please let us know. We may need to resend the letter or look into previously unknown mail delays or issues in your area.