Adelaide Magnolia Letter 19 - Apsley House and Moore
Letter #18 - Apsley House and Moore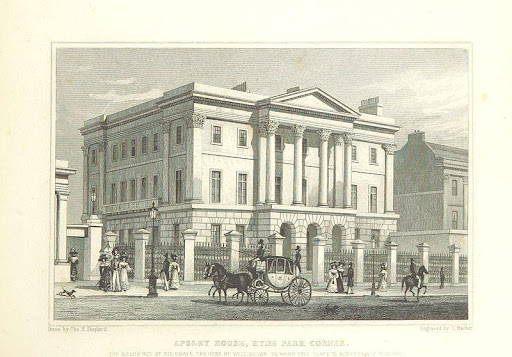 Apsley House, Hyde Park Corner, pg. 227 from "London in the Nineteenth Century" 1828. Courtesy British Library
Apsley House is most famous for being the home of the Dukes of Wellington, and most notably the 1st Duke of Wellington, Arthur Wellesley, who famously led a defeat of Napoleon in the battle of Waterloo. Apsley house was originally constructed between in 1771 and 1778 for Lord Chancellor Henry, 1st Baron of Apsley, giving the house it's name. The architect who constructed the original building was Robert Adam, who once served as the Architect of the King's Work, overseeing building and maintenance of royal castles and residences.
Apsley House is located at the southeast corner of Hyde Park at the formal entrance on Piccadilly. When it was first built, it was the first house built on the north side of Piccadilly and the first house travelers passed coming east from the toll gates at Knightsbridge. For this reason the house became known as Number 1, London. Today, its address is 149 Piccadilly.
The Duke of Wellington purchased the home in 1817 for £40,000, which was part of the money the government awarded him for his success against Napoleon. Wellington purchased the home from his brother, the Marquess of Wellesley, who had purchased the house ten years earlier but finical difficulties forced him to sell the home. Luckily, his brother was looking for a home befitting his new station in life as a famous and well-known war hero and now politician. The Duke entertained society's finest in his home and even held an annual Waterloo Banquet to celebrate the allied victory over France.
Apsley House, now the Wellington Museum, is a museum and art gallery open to the public displaying paintings, artwork, and memorabilia of the 1st Duke of Wellington. The home and collection was given to the government in 1947, but the Wellington family is given use of family apartments on the second floor as long as there is a living Duke of Wellington. In the museum visitors can view over 3,000 works of art, including paintings by Diego Velasquez and Francisco Goya, and even a set of false teeth once belonging to the 1st Duke of Wellington. There are even a number of paintings and a large statue of Napoleon in the museum. Everything in the home is a preserved and restored statement of the impact the Duke of Wellington left on European history.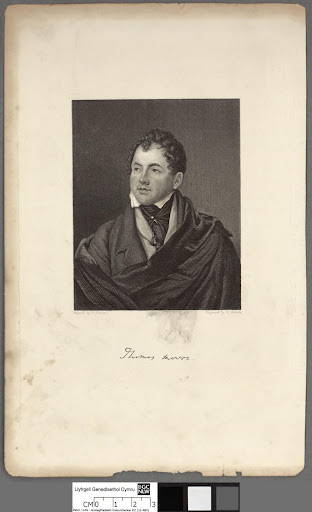 Thomas Moore, the celebrated Irish poet, singer, and songwriter, left a lasting mark on the literary and musical landscape of the 19th century. He was born on May 28, 1779, in Dublin, Ireland, to a prosperous grocer and an intelligent mother who raised him to cultivate his artistic side and to seek ambition. Moore's early life was marked by the intertwining of his deep love for his homeland and his passion for poetry and music.
From an early age, Moore displayed remarkable literary talent. He was educated at a private English school, then a popular English grammar school where he was encouraged in his literary and musical pursuits. It was at the age of 14 that Moore submitted his first verses for publication to the Dublin periodical, Anthologia Hibernica. He attended Trinity College, Dublin, where he befriended Robert Emmet, a prominent Irish nationalist. This friendship would have a lasting impact on Moore's life and work, influencing his later poems that expressed his ardor for Irish nationalism and freedom.
Moore's most celebrated work, "Irish Melodies," emerged from his collaboration with the renowned composer John Stevenson. These collections of lyrics set to traditional Irish tunes and melodies became wildly popular, resonating with both the Irish people and the wider English-speaking world. The songs not only celebrated Ireland's rich cultural heritage but also conveyed poignant themes of love, loss, and yearning for a better future. "The Minstrel Boy" and "The Last Rose of Summer" remain iconic pieces that continue to evoke emotions in listeners today.
Aside from his Irish-inspired works, Thomas Moore's literary prowess extended to political satire and social commentary. His "The Fudge Family in Paris" was a satirical poem targeting the British government, while "Lalla Rookh" showcased his romantic poetry skills, illustrating tales of love and adventure in the East.
Moore's talent was not confined to the written word alone. He was an accomplished singer with a sweet, melodious voice. His renditions of his own compositions enthralled audiences, and his performances drew people from various social circles. Moore's captivating presence on stage and his ability to connect with his audience contributed significantly to his popularity as both a poet and a musician. Moore led a vibrant social life, mingling with influential figures of his time. He was a close friend of Lord Byron, and their correspondence provides invaluable insights into the lives and thoughts of these literary legends.
Moore was also a great traveler. In 1803 he took a government position as Registrar of the Admiralty Prize-Court for Bermuda, but only lasted 6 months before finding life dull on the island. Moore appointed a deputy and left to tour the United States and Canada. He arrived in Norfolk, Virginia in 1804. After his trip to North America, Moore returned to London with fodder for his publications Epistles, Odes, and Other Poems (1806), where in satirical fashion he complained about America and its citizens.
In 1811, Thomas Moore married a fellow thespian named Elizabeth "Bessy" Dyke. Many of his romantic poems were addressed to Bessy and he always found coming home to her to be a comfort. Thomas and Bessy had five children: Anne, Anastasia Mary, Olivia Byron, John Russell, and Thomas Lansdowne. Anne died at age 5, Anastasia at age 17, Olivia only lived for a few months, John was killed while serving in the East India Company at the age of 19, and Thomas died at age 27 in Algiers while in the French Service. Thomas Sr. and Bessy both outlived their children. Thomas Moore died in 1852 at the age of 72 after a year's long battle with dementia. His wife survived him by 13 years until she also died at the age of 72 in 1865.
Throughout his life, Thomas Moore championed the cause of Irish nationalism, and his poetry played an essential role in fostering a sense of national identity among the Irish people during a time of political upheaval. His artistry and advocacy for Irish culture left an indelible legacy that continues to inspire generations of writers, musicians, and activists.
Mendacious braggart: a lying show-off
Charade: a pretense in order to deceive
Watering pots: someone crying
"C'est l'etiquette darling": "those are the rules darling", meaning that is how things are done.