Adelaide Magnolia Letter 16 - Regency Fashion
Letter #16 – Regency Fashion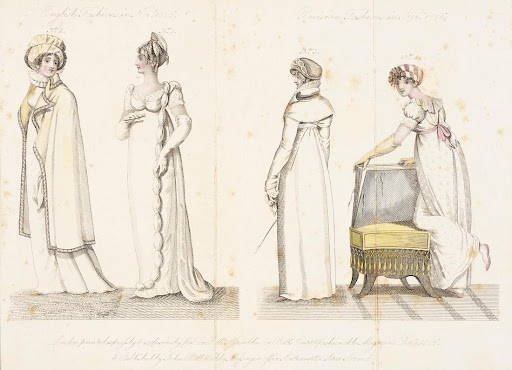 Fashion Plate, "English Fashions in Nov. 1806/Parisian Fashions Nov. 1806" for 'La Belle Assemblée'", John Bell 1806. Courtesy of LACMA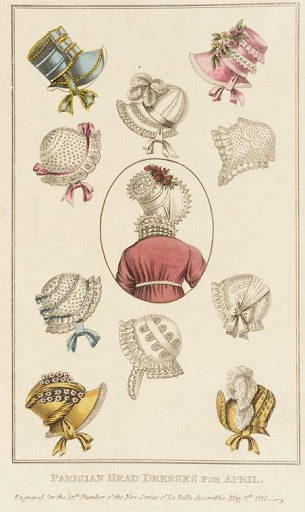 Fashion Plate (Parisian Head Dresses for April) for 'La Belle Assemblée', John Bell 1812. Courtesy of LACMA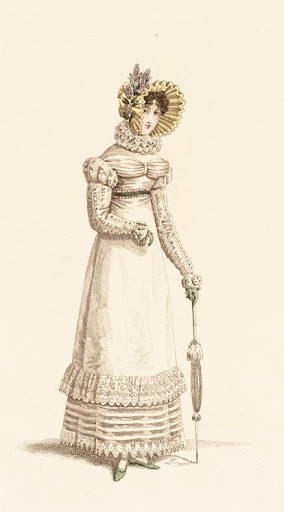 Fashion Plate (Parisian Walking Dress) for 'La Belle Assemblée', John Bell 1819. Courtesy of LACMA
The Regency Era was a time of significant change in fashion in England and saw a departure from the ornate styles of the Georgian Era towards a more simplistic and elegant aesthetic. This was greatly influenced by the French Revolution which touted very democratic ideas, and the idea of simplicity in clothing was used to express a need for equality. When this started in the late 1700's, it strongly influenced attitudes and trends towards clothing.
Women's dress was defined by the empire waistline, which sat just below the bust and was accompanied by a flowing skirt that fell to the ankle. Dresses were often made from lightweight fabrics like muslin or silk and were adorned with delicate embroidery and lace. These gowns were often worn with a shawl or a spencer jacket, which was a short, fitted jacket that ended at the waist. However, there was a shift amid this era from a more clean, neoclassical esthetic to a more decorated one as embellishments and trims became more elaborate on garments. Delicate lace and embroidery expanded into flounces, scalloped trims, satin puffs, gussets in the sleeves, elaborate tucks, etc.
Paris was the center of the fashion world in Europe, and the French styles and lightweight fabrics were highly coveted. Wealthy English women would often travel to Paris to purchase the latest fashions. This however, could not happen during the Napoleonic Wars. In fact, Napoleon embargoed British textiles, and revived the French lace making craft, forbidding women to purchase lace or textiles made in Britain. Very little information about fashion trends was shared and both countries took different approaches to their designs. The French waistlines remained high, while British waistlines lowered and styles became influenced by gothic and romantic motifs with cumbersome embellishments. But after the war, when travel between the two countries was reestablished, English waistlines went back up. And as most fashion trends keep evolving, in 1818 the waistline started to as well. From 1818 to about 1825, as seen through historic fashion plates, waistlines fell incrementally until they reached the natural waistline.
Fashion plates played a large role in the communication of fashion trends. In simplest terms, fashion plates were illustrations depicting styles of clothing and accessories. These were often printed through etchings, line engravings, or lithograph and then hand colored, crafted to appeal to the most genteel and wealthiest women in society. Ladies' magazines and periodicals would include them in their pages for their readers. They were highly detailed and would often include information about the fabrics, colors, and accessories used in the design.
Unlike the fast fashion of today, women could not just walk into a dress makers shop and purchase a dress, each dress had to be made by hand. Fashion plates were very helpful in providing women a clear and easy way to communicate to a dressmaker what they wanted in their piece of clothing without having to sit and have a lengthy consultation. The plates changed the way dresses were designed, because rather than the dressmaker designing for the consumer, the consumer now had a large influence on the design.
Fashion seems to always be influenced by the social and political landscape, as well as advances in communication and industry through history. This seems to be true during the Regency period in England. What was seen as modish changed as the political climate in Europe changed during the French revolution. It was then again impacted through the Napoleonic Wars. As regular travel between European countries became more accessible, cultural influences impacted fashion more and more. The broad circulation and production of women's magazines further allowed for fashion trends to spread more quickly from country to country. All this aided in the evolution of what we now consider Regency Era Fashion.
Sources:
https://fashionhistory.fitnyc.edu/1810-1819/
https://bellatory.com/fashion-industry/Fashion-History-Early-19th-Century-Regency-and-Romantic-Styles
https://fashion-era.com/fashion-history/regency/regency-fashion
https://janeausten.co.uk/blogs/womens-regency-fashion-articles/a-tour-of-regency-fashion-day-and-evening-dress
https://janeaustensworld.com/tag/regency-era-fashion-plates/