Lily Clara Letter 13 - Private Eye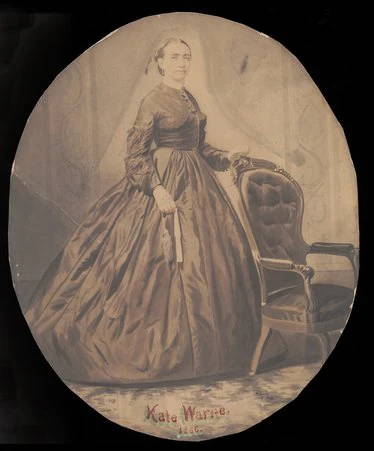 Portrait of Kate Warne, the first female professional detective.
Courtesy of Chicago History Museum.
As the first female detective, Kate Warne boldly redefined antebellum gender boundaries, paved the way for women in law enforcement, and saved Abraham Lincoln's life. The inconspicuousness and secrecy that made her so effective as a private eye has kept much of Kate Warne's personal life shrouded in mystery, but records of her work continue to inspire and impress.
Widowed by age 23, Warne was forced to make her own way in the world, but she was not content with doing anything typical. Unhindered by Victorian social conventions and gender norms, she answered an ad for a job with the Pinkerton Detective Agency. Upon meeting Allan Pinkerton himself, she calmly explained that she intended to apply as a detective, not a secretary. She defended this unprecedented proposal with compelling arguments, pointing out that her gender was an asset. Women could be particularly effective undercover detectives because no one would ever suspect them, because they could gain unique access to suspects, and because "women have an eye for detail and are excellent observers." Pinkerton took the plunge and hired her on the spot.
Warne made history as the first woman detective in the United States and soon proved her value, establishing herself as one of Pinkerton's leading investigators. Pinkerton was so impressed that he created a new Female Detective Bureau and placed Warne in charge of recruiting, hiring, training, and managing the agency's women spies. She held this position of Superintendent for thirteen years, until her death.
She mastered the art of disguise and deception, which she put to effective use to successfully crack case after case. As an undercover agent pretending to be a southern belle, for example, she not only uncovered the details of a secessionist plot to assassinate president-elect Abraham Lincoln but also devised and carried out an elaborate plan of subterfuge that saved Lincoln's life as she and Pinkerton accompanied him to his first inauguration.
Upon her death from pneumonia a few years later, her obituary summed up the impact of "this most remarkable woman," declaring: "In her career while she lived she developed that her sex could do much more than had ever before been ascribed to their sphere. She leaves a void in the female detective department which it will be difficult ever to fill. As she lived, so she died, a strong, pure, devoted woman."
To learn even more about Kate Warne, see:
"Mrs. Kate Warn, The Female Detective," Democratic Enquirer (March 19, 1868).
Kellie B. Gormly, "How Kate Warne, America's First Woman Detective, Foiled a Plot to Assassinate Abraham Lincoln," Smithsonian Magazine (March 29, 2022).
Petula Dvorak, "The Woman Who Helped Protect Lincoln from the Men Who Tried to Kill Him in 1861," The Washington Post (February 15, 2021).