Lily Clara Letter 22 - Haute Couture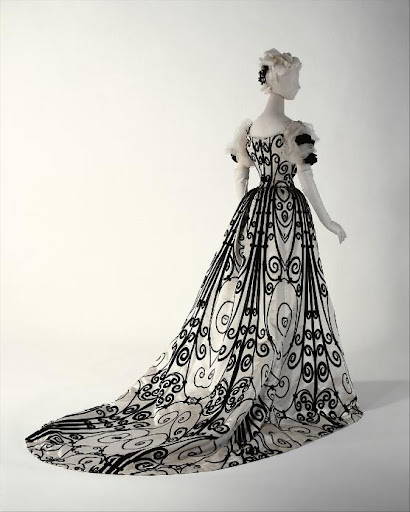 Silk evening gown, designed by House of Worth, 1898. Courtesy of The Metropolitan Museum of Art
Haute couture, or "high dressmaking," represents the very height of the art of fashion. Fusing costume and fashion, the term today remains narrowly restricted to a select group of atelier-based designers whose unique artistry, luxurious materials, and labor-intensive workmanship make their custom pieces among the most exclusive and expensive in the world. This elite industry can all be traced back to Charles Frederick Worth, "the father of haute couture."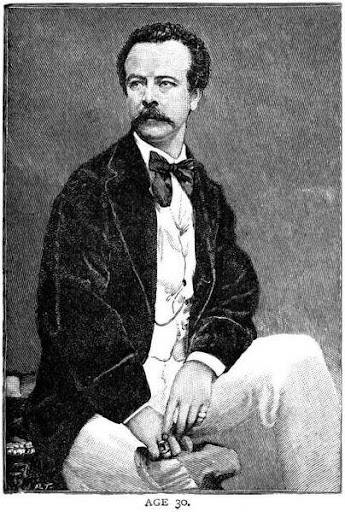 Portrait of Charles Frederick Worth, ca. 1855, published in The Strand Magazine, 48:8 (1894).
Capitalizing on high end Parisian textile manufacturing and the trend-setting allure of Versailles, Paris was already the center of the fashion world when Charles Frederick Worth entered the scene. A British-born tailor, Worth made a splash in Paris when he established the first couture salon, the House of Worth, at number 7, rue de la Paix in Paris in 1858. There, the most high-end private clients would select elaborate fabrics and be fitted for custom-made luxury fashion adapted into nineteenth-century clothing suitable for everyday life. Worth was the first to introduce live models to display designs to clients, the first to sign his clothes with a designer labels, the first to create design collections around a theme, and the first to redesign, then eventually abandon, crinoline hoop skirts in exchange for more practical designs for women.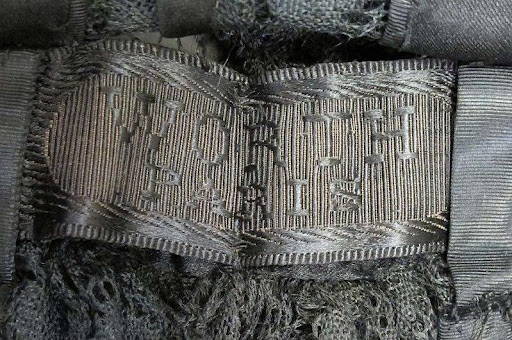 An original designer label from the House of Worth, ca.1880. Courtesy of The Metropolitan Museum of Art.
The House of Worth had an elite clientele of royalty, theatrical stars, and the wealthiest aristocrats who traveled to Paris to have their wardrobes designed by the exclusive design house. Worth's prominence skyrocketed when he became the official couturier for Eugenie, the last Empress of France and wife of Napoleon III, who commissioned him to create extravagant masquerade costumes and evening wear as well as everyday wardrobes for her court. In 1868, Worth solidified the couture industry by establishing a regulating authority known as La Chambre Syndicale de confection et de la couture pour dames et fillettes. This organization served as a type of union to deal with issues related to dressmaking, and included specific rules governing the use of the nomenclature haute couture to ensure the industry's exclusivity.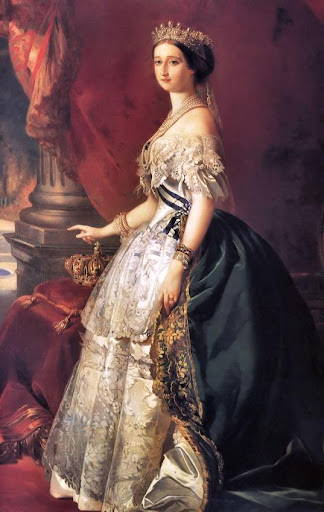 Portrait of the Empress Eugenie de Montijo of France, by Franz Xaver Winterhalter. Courtesy of National Museums Scotland.
Charles Frederick Worth shaped nineteenth-century French fashion culture and revolutionized the global fashion industry. His descendants continued to run the House of Worth until 1952, and the fashion house officially closed in 1956, until briefly revived from 1999 to 2013, and the brand now remains as a producer of high-end perfumes. Over time, designers such as Chanel, Dior, and Givenchy have built on Worth's legacy, and haute couture continues today as a paragon of creativity and fashion at its most refined.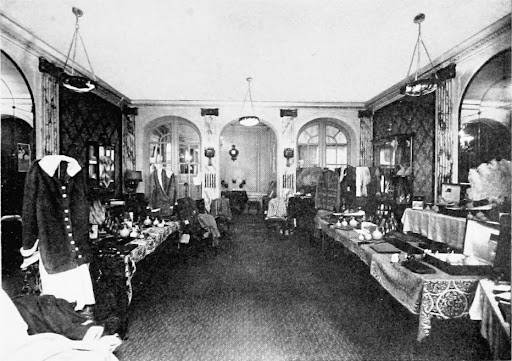 Interior of the House of Worth, ca. 1920. Courtesy Wikimedia Commons.