Letter 20 - D-Day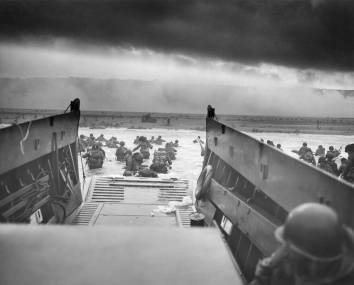 Troops landing on Omaha Beach on June 6, 1944.
Photo Credit: The Washington Examiner
If you google "D-Day", you'll probably see results that refer to the Normandy Landings, Operation Neptune, Operation Overlord, or D-Day. At first, you might feel a little confused. Wasn't D-Day that super important day in France during WWII? Were the Normandy Landings a different thing? Maybe all of these names refer to the same event? That last guess would be the correct one. D-Day was an event that can be referred to as many different names. Many people wonder, why is it called D-Day and what does the "D" stand for? After learning about the historical day's events as a small boy, I remember thinking that "D" surely stood for "doomsday".
Even from the first news of D-Day, there was some confusion as to what the "D" stood for. Many historians argue that it stands for "day", while others agreed it was "doomsday". According to TIME magazine, "When someone wrote to General Eisenhower in 1964 asking for an explanation, his executive assistant Brigadier General Robert Schultz answered: 'General Eisenhower asked me to respond to your letter. Be advised that any amphibious operation has a 'departed date'; therefore the shortened term 'D-Day' is used'" (1). Still, experts disagree on Eisenhower's explanation. In any case, D-Day is still considered the most popular name for the events of June 6, 1944.
The Audrey Rose Collection's issue of the Washington D.C. Gazette Times does an excellent job of outlining the events of the initial invasion. For a complete list of the references used to write the issue, check out the reference list below.
The Allied Expeditionary Force's invasion of Normandy was the largest invasion by sea in military history. Here's a few statistics of that fateful day, provided by the National WWII Museum:
- More than 150,000 Allied troops from the United States, the United Kingdom, Canada, Free France and Norway were in the initial invasion. - Securing the beachhead for the allies only took 18 hours.
- The Allied code names for the beaches along the 50-mile stretch of Normandy coast targeted for landing were Utah, Omaha, Gold, Juno and Sword. Omaha was the costliest beach in terms of Allied casualties.
- 6,000 ships and landing craft, 50,000 vehicles, and 11,000 planes were deployed in the invasion.
- Casualties (including total killed, wounded, missing or captured): - United States – 8,230
- United Kingdom – 2,700
- Canada – 1,074
- Germany – Estimated between 4,000 and 9,000
- By June 11, just five days after the initial invasion, more than 326,000 troops and 100,000 tons of equipment had disembarked in Normandy.
As we began to write about the heroic acts of D-Day, we decided that it was something we could not tell as well as those who lived it. We hope you enjoy the following videos of D-Day veterans as they describe the events of June 6, 1944 on the 75th anniversary in 2019. The videos are courtesy of PBS NewsHour.
For additional stories from D-Day veterans, be sure to click this link to view a presentation from the United States Department of Defense in honor of the 75th anniversary of D-Day.