Letter 18 - Eisenhower & Operation Overlord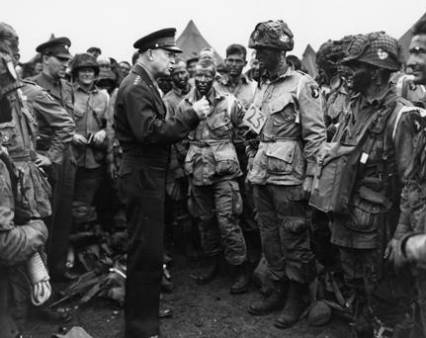 Photo Credit: The Eisenhower Library
When you hear the name Eisenhower, you probably think of the 34th President of the United States. While Eisenhower did serve as President from 1953 to 1961, his career serving the US and its people started long before his time in the oval office. The Texas native was born in 1890 and married his sweetheart Mamie Geneva Doud in 1916 (1).
Eisenhower's childhood nickname, Ike, would stick with him throughout his life, eventually becoming a part of his iconic presidential campaign slogan, "I Like Ike" (1). Ike would be a favorite of the American people during his time as President. He was a skilled football player in high school and loved few things more than a good old baseball game. Ike was a skilled hunter, angler, and horseback rider. He was a highly religious man and considered the Bible his favorite book. He tried to live his life by his favorite motto: "Gently in Manner -- Strongly in Deed". When he wasn't enthralled in a global conflict or leading the US, Ike could be found enjoying a western novel or sitting at his easel painting a landscape. One of his favorite hobbies won him the hearts of many American households: Cooking. Ike was a skilled cook and loved to make delicious food. He created many of his own recipes with some that are still used in the White House today (2). Many of his hobbies made him out to be just another ordinary American doing extraordinary things.
Eisenhower's military service began just one year after his high school graduation when he began attending the West Point Military Academy. He would later become one of the 59 generals the West Point class of 1915 would produce (3). With WWI raging in Europe at the time of his graduation, Eisenhower was itching to deploy to the European front; however, the war would end just months before his deployment.
Eisenhower continued to climb the ranks of the military after his graduation from the Command and General Staff College near the top of his class. After his schooling, he went on to serve as a top aide to General Douglas MacArthur, the US Army Chief of Staff (4). With the outbreak of WWII, Eisenhower's service took him to Washington, DC, where he briefly worked as a planning officer. Not long after being in DC, Eisenhower was made Brigadier General and commanded Operation Torch, the successful invasion of North Africa, in 1942 (4). Upon his success, he was promoted again and earned his second general star. When President Franklin Roosevelt was unwilling to send the US Army Chief of Staff to direct operations in Europe, Eisenhower, who was already stationed in Europe, was promoted to be Supreme Commander of the Allied Expeditionary Force, otherwise known as the Supreme Allied Commander (5).
Immediately after his promotion to Supreme Allied Commander, Eisenhower began planning what would become one of the most ambitious military invasions in history: Operation Overlord. Operation Overlord would later be known as D-Day, the day when allied forces invaded the northern coast of France. Preparations for Operation Overlord were extensive, with planning and preparation taking over three years (6). In the years leading up to the invasion, troops trained extensively on the beaches of the United Kingdom, New technologies were created, and reconnaissance missions were deployed to examine the French coast. Fearing a specific reconnaissance mission could give away the invasion point, allied missions performed fake reconnaissance across the entire western European coast (7).
As Supreme Allied Commander, Eisenhower quickly realized that the Germans would need to split their forces across different fronts for Overlord to be successful. A campaign of deception soon began. Eisenhower pulled the feared American General Patton from the front and directed fake radio traffic regarding Patton and a "big invasion" taking place in Northeast France, far from Normandy (8). One historian notes that, "The Allies broadcast endless hours of fictitious radio transmissions about troop and supply movements and planted wedding notices for fake soldiers in local newspapers. They deceived Nazi aerial reconnaissance planes by fashioning dummy aircraft and an armada of decoy landing crafts, composed only of painted canvases pulled over steel frames, around the mouth of the River Thames. They even deployed inflatable Sherman
tanks, which they moved to different locations under the cover of night, and used rollers to simulate tire tracks left behind in their wake" (8).
In addition to the campaign of deception, air missions were deployed to destroy bridges across the Seine Loire rivers, effectively isolating Normandy from the rest of the axis powers (9). To ensure a complete deprivation of support from the enemy, air missions continued before the invasion to destroy railways, airfields, fuel storage, and radar stations. The destruction of the German resources, along with the deception across the English front, created ideal conditions for the allies to invade. The only factor that was still unaccounted for was the weather.
Allied meteorologists worked tirelessly to create accurate forecasts for Eisenhower to review. They placed the ideal invasion date between the 4th and 6th of June, 1944. Eisenhower initially selected June 5, but when a storm rolled in on June 4, all bets were off. Eisenhower assembled the allied generals to discuss the situation. They decided to move forward with the invasion on June 6 (10). With the allies having control over the Atlantic, German meteorologists were limited to meteorology predictions made from Paris, France, making their ability to predict and detect incoming storms difficult. With a prediction of stormy weather over the first weeks of June, many German soldiers were put on leave to return to family and have time off. Upon hearing the prediction of bad weather, Hitler's top marshal, Erwin Rommel, would return to Germany to deliver a pair of shoes to his wife for her birthday (11). All of these factors would make for an ideal time to strike for Eisenhower…
Thanks for reading! Stay tuned for more about D-Day in future posts. Click the links below to find some of Ike's favorite recipes! If you give one of them a try, we would love to hear how it turned out! Send us an email at support@theflowerletters.com with your experience.