A season of joyous giving. A year of captivating stories.
Twelve months of historical fiction in the form of beautifully written correspondence delivered straight to their door. That's two letters every month for an entire year!
And what's more, you can choose between two incredible collections. There's our flagship Audrey Rose collection, telling the story of two lovers as they meet in the run up to one of the most significant events in our history: June 6th, 1944…D-Day. Then there's our new Lily Clara Collection. Imagine a mail-order bride in the rip-roaring Old West who may just have a few tricks up her sleeve as she approaches the altar – and true love itself.
Whichever story you choose to gift, one thing is certain: your friend or loved one is going to embark on a year-long adventure with characters they'll come to treasure. And better yet: you just crossed an important gift decision off your list. How easy was that?
When you purchase the Flower Letters Christmas Bundle for a friend or loved one we provide you with a beautifully-printable gift notice that you can stick in a card or email to the recipient on Christmas, the special occasion or whenever you exchange gifts – it's up to you!
But…here's the secret sauce:
We'll be sending an early surprise gift to your friend or loved one that should arrive in the first week of January before any letters. It's our one-of-a-kind letter collection tin. A beautiful keepsake reminder and the perfect place to keep all the letters that are about to follow (and trust us – there's a lot of great stuff on the way to keep – and cherish!).
And then, the pièce de résistance
The actual letters will start mailing in January 7th and continue twice a month all the way through December – this is truly the gift that lasts ALL YEAR.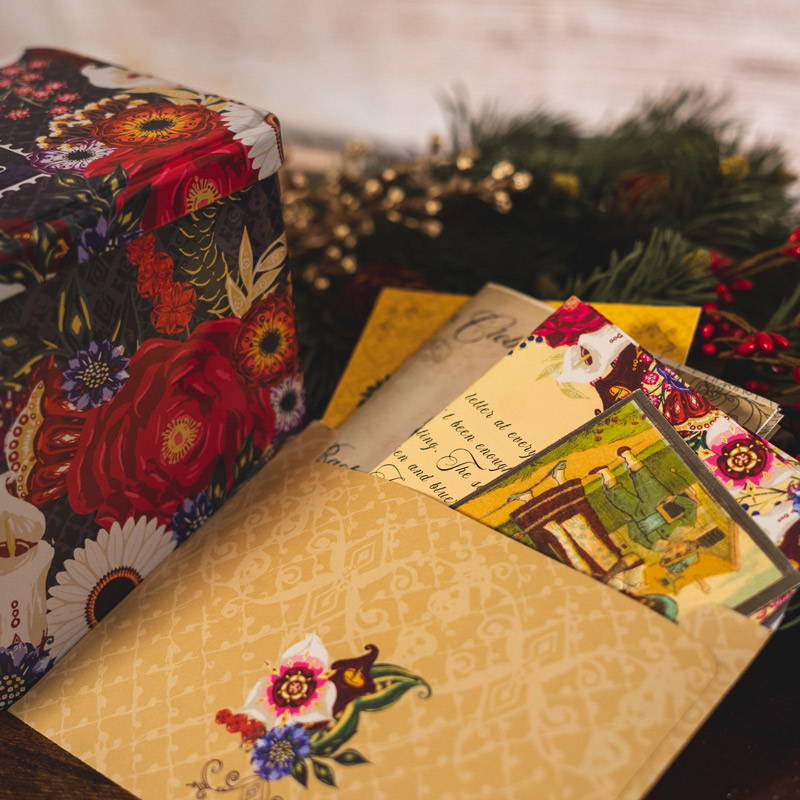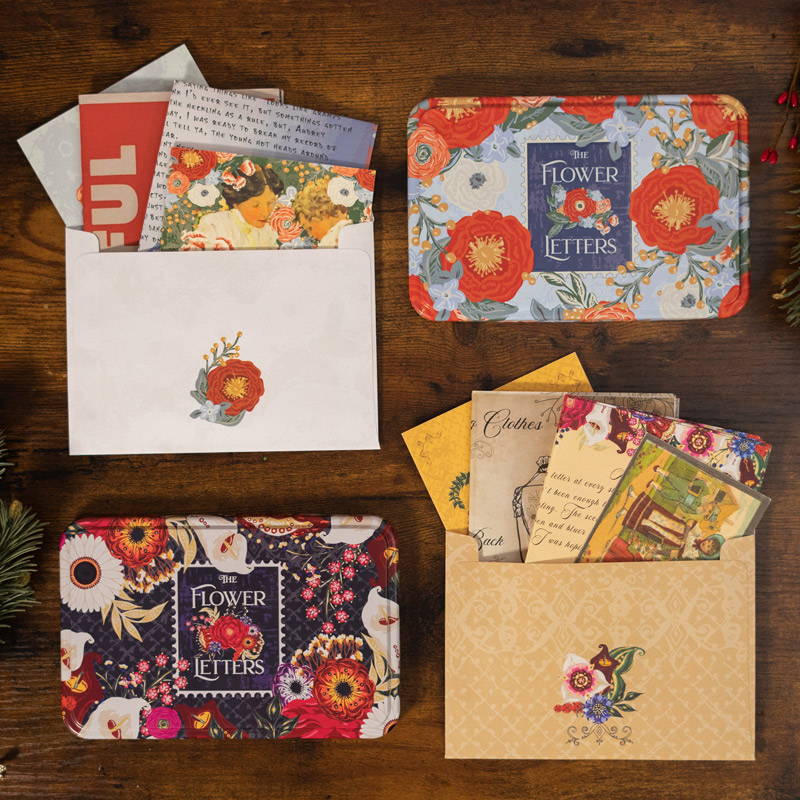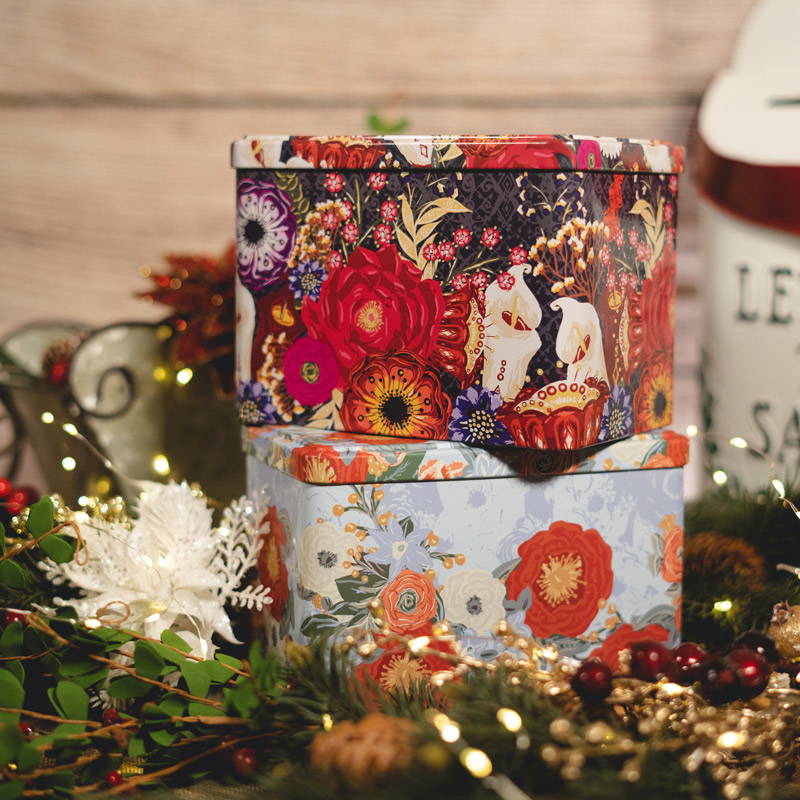 Timeline of a Christmas bundle
After you purchase one of our Chirstmas Bundle Story Collections, all you need to do after is print out and present the downloadable gift card to give on Christmas or whenever you exchange gifts. Simple, right?!

Then it's our turn! Leave the rest of your gift-giving to us!
The collection tins will ship after Christmas by December 31, 2021

The letters will begin mailing on January 7th 2022 (the first mail date of 2022)
We will mail two letters a month throughout the year, making this the gift that keeps on giving and literally lasts all year!
Lose yourself in an unforgettable journey.
The Flower Letters are more than just…letters. They're intricately researched, highly interactive works of historical fiction. Each series is centered around a specific era or event, giving you, the reader, a much richer and more compelling view of the lives of your characters.
This isn't just a story you read. This is an immersive experience like never before. From the moment you open your mailbox to the umpteenth time you find yourself re-reading that month's delivery of letters, you may just find yourself lost in another time and place.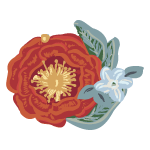 FREQUENTLY ASKED QUESTIONS
When will the gift receive receive their first letter?
The collection tins will ship after Christmas by December 31, 2021. The letters will begin mailing on January 7th 2022 (the first mail date of 2022). We mail using the USPS First Class mail system. We process and mail letters during the 2nd and 4th weeks of every month and mail the Friday of those weeks.
What do I get when I buy the collection?
Your gift recipient will get a total of 24 letters, 12 postcards over a period of 12 months. They will also get a collection tin to store all the letters in. And be on the lookout for a few surprises along the way. Some letters may contain multiple letters, telegrams, games etc.
Are these stories true? Are these real letters between real people?
No. While our stories center around eras and historical events, the characters and story lines are fictional. Any similarities are coincidental. Check our Learn sections regularly - we'll share background and insights into the inspiration for our stories and characters.
I haven't subscribed yet? Am I too late?
No - you're not too late! We will stop taking Christmas Bundle orders the day after Christmas. For those who can't help but wait 'til Christmas Eve to find the perfect gift, this one is for you!
How long is each letters?
Each letter is at least 1 full page front and back.
I have kids, can I read these letters with my family?
YES! We hope this is an experience the whole family can enjoy together. We've made the stories immersive with additional content online to add to the experience. Also - be sure to keep your letters - you might need them later on!
How can I gift multiple Christmas Bundle subscriptions?
To order multiple Christmas Bundles, you will need to place a separate order for each Christmas Bundle you would like to purchase.